About Us
German Shepherd Trainer • German Shepherd Breeder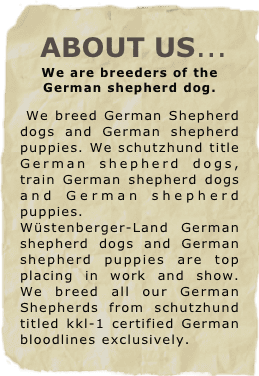 German shepherd puppies for sale, Personal protections dogs for sale
My name is Michael Kempkes, I was born in the town of Borken Germany. At the age of nine I started what would become my life long passion for training, titling and showing of the German shepherd dog.
I've been employed by the German government to train their dogs for guard, bomb detection,search and rescue. I earned my degrees and certifications from a special government k-9 training school in Koblenz, Germany.
I have extensive knowledge in the temperaments, training and showing of the German shepherd dog. I have titled literally hundreds of dogs to the hardest schutzhund III level title obtainable. And taken them to VA levels in show internationally. I have helped many fellow breeders, both in show and work. And the importations of some of the finest show/work stock here into the USA and other parts of the world today.
I met my wife Jeannette,in Dallas, Texas at a German shepherd sieger show (where else)! And we moved to Southern California from Germany ten years ago. In the "Wustenberger-Land", this our new kennel name for the USA and the German word for " Desert Mountain Land ". As you will see, we live up a mountain in the desert, in beautiful Agua Dulce California . We have a five acre parcel far away from the busy city. This made the perfect place to train and raise some of the worlds finest German VA bloodline shepherds being breed today.
We breed German shepherds, proffestionally  train German shepherds, offer  Schutzhund titled personal protection dogs for sale. All Wustenberger-land German shepherd breeding stock is super healthy with sound hips and elbows. We breed to our German shepherds to the highest standards.We are not a dog/puppy broker. We are voted one of the top breeders in the USA for German bloodline German shepherds! We also travel to Germany to show and trial our shepherds, many of our dogs have taken first in show/work in Germany , Europe , Asia and the United States . This of course is documented for all to view.
We have recognized our goal of internationally breeding the finest German shepherds available, with outstanding temperaments and structure. Suitable for work and show. And of course making the "worlds finest" companions. You are invited to visit or just drop us an email. We will be glad to answer any questions you may have about the "German Shepherd breed".