WustenbergerLand.Com Adults For Sale
Trained German Shepherds, Personal Protection Dogs, K9 Estate Security Dogs for Sale
Wustenberger-Land is your #1 choice for the worlds Top German shepherd dogs.
GERMAN SHEPHERD DOGS FOR SALE
ALL LEVELS OF TRAINED GERMAN SHEPHERDS AND PUPPIES
OBEDIENCE TRAINED GERMAN SHEPHERDS
TRAINED PERSONAL PROTECTION DOGS, K9 Estate GERMAN SHEPHERD DOGS, Trained German shepherds.
PRICE RANGE FOR OUR TRAINED/TITLED GERMAN SHEPHERDS start $6,500.00 and increase to very high amounts DEPENDING ON LEVEL OF TRAINING AND PLACING IN INTERNATIONAL COMPETITION. PRICES ARE HIGHER FOR GERMAN VA-HIGHLY TITLED GERMAN GERMAN SHEPHERD DOGS FOR SALE.
• ALL LEVELS OF TRAINED GERMAN SHEPHERDS
• OBEDIENCE TRAINED GERMAN SHEPHERDS
• TRAINED PERSONAL PROTECTION DOGS,TRAINED GERMAN SHEPHERDS FOR SALE
---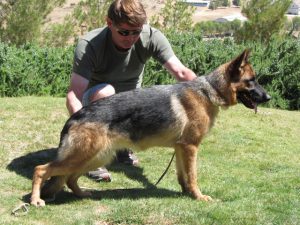 Viviana is a superb quality female from the Excellent Select male and one of the top producers of German shepherds in the United States today. Multiple VA Quartz vom Wustenberger Land schutzhund 3 kkl1 Life time. This female has a very good temperament and is stable around people, other dogs and children. Vivi has dark eyes with a beautiful expression. She is very playful and loves to please,Vivi is being trained by one of Germany´s top trainers and is super easy to handle. She is clean and well behaved in the home. Viviana has excellent hips and elbow prelims and will make a very loving companion and protector as well as a show - work competitor when desired.
Price $12,000.00
---
Wustenberger-Land Press Release on Personal Protection Dogs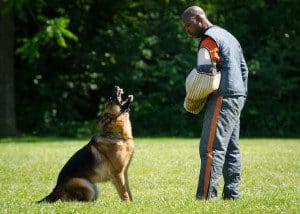 Crime Rates Highlight Need For Personal Protection Dogs Protection Dogs Prevent Crimes at Home and in the Neighborhood.
Agua Dulce, CA — December XX, 2013 – The year 2011 saw 1.2 million forcible entries into homes across the US, and nearly 3.4 million homes were robbed in that same year. With these alarming statistics, the need for added protection in the home is at an all-time high. While home security systems are a common option, personal protection dogs are quickly becoming the favorite choice for those who don't wish to live in fear.
Personal protection dogs are a proven deterrent for criminals. A recent survey asked prison inmates about what homeowners could do to protect themselves from crime, and 65 percent replied that they would avoid a home with a trained dog present. Of course, the key to having an effective home security system with a dog is to choose the right breed. Titled German shepherds are trained in the art of protecting their masters, and these loyal dogs do double-duty as great family companions.
German shepherds are known for their loyalty, intelligence and strength. These dogs are commonly used for police K-9 units, as well as trained military K-9 units. Wüstenberger-Land breeds, raises and trains personal protection dogs with an exclusive, all-German bloodline with a reputation in outstanding health and temperament. Through the experienced training techniques of Michael Kempkes, Wüstenberger-Land German shepherds are bred and trained to be very easy to handle and protective of women and children. Owning a trained Wüstenberger-Land personal protection dog is having the assurance that you have purchased from one of the most reliable and trusted breeders in the world.
The dog's appearance to criminals is intimidating and frightening. This is why trained and titled German shepherds are perfect for protecting homes and families. These dogs are alerted to danger and suspicious noises faster than any home security system, and the ferocious bark of a German shepherd is enough to scare off many intruders. If a homeowner is threatened, the personal protection dog will take action to protect its master, and the response time of the animal is faster than that of the alarm company.
About the Company: The rise in crime occurring in the home is startling, but there are steps that homeowners can take to protect their families. Investing in a personal protection dog gives families added peace of mind and a loyal companion. Wüstenberger Land specializes in breeding German shepherds to protect and serve families, and interested homeowners can purchase any of the excellent German shepherd puppies for sale from these experts on the breed.
Contact information:
Wustenberger-Land German shepherds
Phone: 661-268-1486
Cell: 661-904-5382 (Michael)
Cell: 661-904-4737 (Jeannette)