Kalidas vom Wustenberger-Land
About: Kalidas vom Wustenberger-Land's sire and Dam and why Kalidas is proivng to be a top producer.
Sire: Quattro is the most typical son of VA1 Zamp Thermodos, and comes from a lineage of winners including VA2 Quantum Arminius, the father of Zamp, and VA1 (CHN) Euro Media, his mother's side. He is tipped to be the successor to his father as his most typical son and we are very excited to have one of his first litters in the whole world!!!
Dam: Jazmin needs no introduction. She is and always has been in the top ring in the show, always making a VA position in every single working class she has been entered and presented in. In 2006 she was SG19 in Germany and the No. 1 American bred female in Germany for the same year. She has finished VA a total of four times, and has been vice Siegerin VA2 twice.
She has also fulfiulfillled her duties in the whelping box as a top producer as she has produced top offspring from different sires who have finshed with Great results not only in the USA but Germany as well. SG!! Ritzy vom Wustenberger Land (Schh3, KKL1, V) and Bhadrak vom Wustenberger Land, to name a few.
Kalidas vom Wustenberger-land (Schh3, kkl1 - hd ed a1 normal)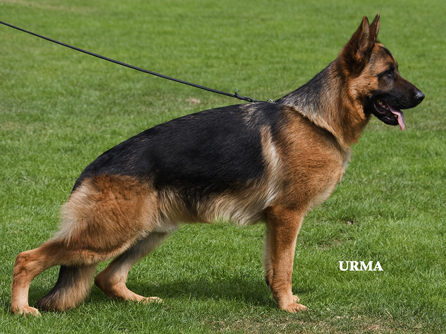 ---
VA2 Quattro v Partnachklamm
 Zamp vom Thermodos
Quantum vom Arminius
Ute vom Thermodos
 Ora Mudesheimerland
Euro Media
Hanka Mudesheimerland
VA Jazmin vom Wustenberger Land
 VA1 Pakros d'Ulmental
VA1 Bax Luisenstrasse
VA1 Karma Ochsentor
 VA Jenny Laacher- .Haus
V1 Eros vom Luisenstrasse
Perle vom Laacher- Haus