WustenbergerLand.Com Testimonials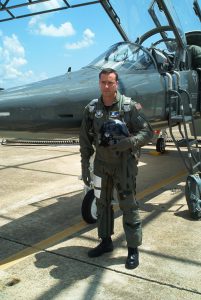 I'm an active duty USAF Major who recently lost my 14 year old retired military working GSD due to old age, followed by health complications. She was originally from Germany, purchased by the U.S. Military and sent to Lackland AFB, TX to be trained as a MWD (narcotics detection). Due to her bloodlines/genetics she had longevity in regard to her lifespan (14 years). I needed a fresh start to fill the void and understood the difference of good bloodlines/breeding could be the difference between the lifespan of 6, 12, or 14 years (approx. and as an example).
This is why I went to Mike and Jan. They are the most respected and highly regarded within their community and among the top breeders/trainers in the United States (world). In fact, considered by many to be among the top two breeders in the U.S. based on their expertise and results. They have an incredibly long line of impressive awards and titles for show that comes from their own extensive research and most selective breeding. The living conditions, socializing, special diet considerations, environmental conditioning, and consistent routine of exercise are simply top notch. Most important is the temperament that comes with the breeding that Mike and Jan produce. This is especially important for family considerations and other applications such as personal and military/law enforcement applications.
Jan and Mike are serious about their business (no nonsense) but at the same time couldn't have been any more welcoming and sincere! Oddly enough, it was more like going to visit family the day my wife went out to pick up a GSD puppy. Basically, they had only one left in the litter they had selected for themselves (unadvertised) when the litter was born. My previous retired GSD/MWD was the only thing I had to look forward after returning from two tours to Iraq and three tours to Afghanistan (prior to meeting my wife). Ultimately, they gave her up to me after my wife explained how distraught I was from losing my own. Talk about being all heart- in a figure of speech- took the shirt right off their backs. I will be forever grateful to them both.
Also, understand the time, effort, and investment on their part. The champion lines and associated breeding involve distant travel and cost of breeding can be significant. The breeding and number is also limited as they are professional and qualified in their profession (unlike what goes on in a puppy mill). In all fairness, they are world renowned breeders and trainers within their industry. They are very fair in regard to what they ask monetarily, in terms of what you receive (best value). In short, the puppy I purchased would have easily gone for well over 5K plus but I paid something less. Understand that in the scenario of purchasing a trained GSD, even the U.S. MWD program easily racks up 30k plus (easily) with the training alone, not to mention the cost of buying from better lines from Germany prior to the intensive training). You get what you pay for in most cases. When it comes to their operation, you get top value for what they ask and the most beautiful and healthy GSD that you will find anywhere. In terms of training, Mike is highly sought after for his skills (trains/instructs also for the military).
One last note: I have never known anyone so accessible and responsive on both phone and email in regard to a business. It's obvious that Mike and Jan are compassionate and focused They are passionate on furthering the breed and ensuring the proper care of the new owner of their GSD.
They are simply the best!
---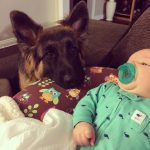 My wife and I wanted to get a German Shepherd before our new baby was born, so I called Jan and started the process. It was an amazing experience from the very beginning. Jan and Michael both were so helpful and delightful. We had Michael train our new puppy when we went to the hospital to have our son and we are beyond pleased with the results. if you are in the market to buy a new German Shepherd, look no further. Our Stella is such a sweetheart. She has the best disposition of any German Shepherd we've ever been around due to her awesome breeding. We are so happy we got her and so happy with the experience with Michael and Jan both. Thank you so very much!!
---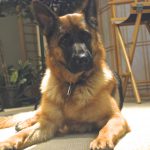 Dear Jan and Michael, I just had to let you know how much we love our Roxie. She just became a Canine Good Citizen and we are moving on to Rally Obedience Training. She's doing so well. Sweet, loving and quite a character. When we're out walking, people stop their cars to tell me how beautiful she is. What a great dog!
Thank you, Laurie Burton and Dan Brumer
---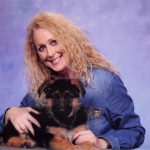 Hi Jan and Michael,
First, my Congratulations to both of you on taking 1st place in the 18 to 24 month males with your amazing Florio Vom Wustenberger-land at the USCA Sieger Show in St. Louis, Mo. Congrats to VA Vesper and multiple VA Quartz Vom Wustenberger-Land's daughter Tigra for Achieving her IPO3 at just 23 months of age in Germany, and the USA 2014 Sieger Winner Florio Vom Wustenberger-Land with SG1 rating and also winner of Best American Breed!
Jan and Michael, I can't thank you enough for sending me the most beautiful and well-temperament girl. Quartzca Von Wustenberger-Land, AKA Baccar, loves us all and we love her so much.
You have some of the world's best bloodlines and I've seen how well you care for your Shepherds. We got the BEST of the BEST in you, Jan, and Michael, as quality breeders and top-notch trainers.
Baccar is amazing - she loves to fetch balls, play in her pool, and play frizbee. She is also doing so well with sitting, laying down, coming when called, and her ability to focus so hard at the age of 11 weeks is amazing! She is understanding the concept of biting and releasing on a bite toy, as well as learning everything in English and German!
Of course, this is not our first German Shepherd from you. Our Cockey Von Wustenberger-Land was number one in the 18 - 24 month class at the North American Sieger Show in 2004! Michael also titled my male Mack to a Schutzhund III, as well as showing my Bacca numerous times and winning her class!
Here's her picture taken at 9 weeks of age.
Sending our love,
Lesley and Baccar
---
Thank you so very much, Jan & Michael. You shared your weekend with us and Thom is elated to have a precious new family member on the way! We are so impressed with your approach to everything your business encompasses, again thank you more than words!
Sincerely, Julie
---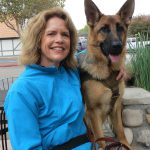 Sheila is the best GSD ever. Her fantastic temperament and playful nature lends itself to many different activities. Sheila has got her NW1 title working towards her NW2, a TDI therapy dog visiting the local hospital with me, and we also just competed in our first AKC Rally Obedience ( Novice A ) Trial and qualified. Her favorite play is spent fetching balls and sticks, along with attacking her tug. All this before her 2nd birthday!!
Thank you Michael and Jeannette for producing German Shepherds of uncompromising excellence!
---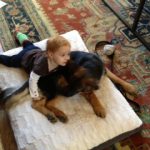 Hello Jan and Michael, we wanted to tell you that Rigsby is an amazing pup. He has an incredible temperament gets along very well with our lab Ally and all five of our grandkids who range in ages from 18 months to 11 years old. He learns fast and socializes well. He typically makes a morning run with me to the local Starbucks and as soon as I get truck keys he is ready to go. I drive a pickup truck and when I open the door he is now able to jump in the passenger seat which is a good thing for me as he is getting to be a big boy. He gets a lot of compliments where ever we go he is a hoot.
We researched quite a few breeders before we came across your web site and we can honestly say that we were very fortunate to have found you guys. Keep up the good work you guys do an excellent job as a breeder of German Shepherds.
I thought I send a few pictures of Rigsby as they speak for themselves.
Take Care
A.J. Clark
---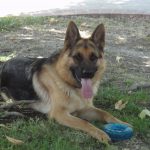 Just wanted to share a picture of Pharaoh! We bought him as an 8 week old puppy in October 2009 and everywhere we go, people stop and tell us how he's the most beautiful German Shepherd they have ever seen! We love him sooo much!
---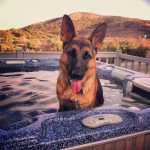 We love our German Shepherd, Baron, as much as he loves water!
He is one year old this month and sweeter than ever!
---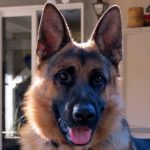 We wanted to send you a picture of Bogey as he approaches his first birthday.
He is a very good German Shepherd highly intelligent and he gets compliments all the time.
---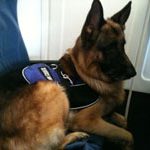 Besides Nicholas being a service dog for me, I went through the process of having him certified as a therapy dog last year too so that he and I could visit the elderly and those in the hospital – he loves interacting with them and they so much enjoy his gentle and attentive nature.
---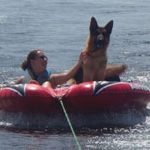 We are sending you some recent photos of Apollo and his new family. He is doing great, we joined obedience and agility classes and he is a doggie einstein there :). He is adjusting well, love playing with water hose, but we still can't convince him that swimming is fun. Thanks again, Ania.
---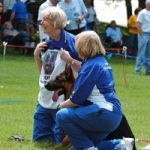 Dear Michael and Jan--We are writing to thank you both for everything you did for us and for our young German Shepherd, Odin vom Mittelwest. Last November, we came to Agua Dulce to drop off Odin, a happy, healthy, friendly 18 month old dog, who loved to work, to be titled.
We had watched for many years how you cared for and handled your own dogs, and while we knew we were going to miss Odin terribly, we felt very comfortable that we were leaving him in good hands. We were very impressed not only with your training philosophy, but also with the high quality of food and supplements used in your kennel feeding regimen.
Then only 6 months later, under your training program, Odin had achieved his BH, AD, SchH I, II, III, and Breed Survey, and then only 1 month later, Odin achieved his VA rating at the US Schutzhund Sieger Show in Lake Geneva, Wisconsin. But, even better than all of the titles and ratings, you returned to us the same happy, healthy, friendly now 25 month old dog, who still loves to work and, yet, remains a wonderful house pet who loves people, loves to play, and loves other dogs.
We are so very grateful to you, and we would recommend your breeding program and your training program to anyone.
It was very evident at the Sieger Show how bonded Odin had become to both of you and how much he loves you, and your bond and affection to Odin was also very evident. Moreover, your true love of German Shepherds and the sport of schutzhund certainly was shown when the two of you and your vom Wusterberger-Land team helped to call Odin during the Working Dog class.
Because neither of us is able to run to call him, vom Wusterberger-Land team members worked together to accomplish Odin's VA rating. Since you had your own dogs competing in that same class, your efforts truly demonstrated what love of breed and good sportsmanship are all about.
We also appreciate so much all the communication concerning Odin during the months he was with you, your attention to his monthly Heartgard and Frontline and vaccines needed, and were extremely grateful whenever the photos would come. You are the best!
With love and gratitude,
Ruth Black and Neda Tkalcevic, M.D.
---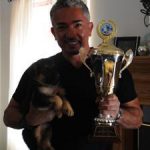 The Dog Whisperer Cesar Millan came to Wustenberger-Land German Shepherds for his new German shepherd puppy.
Look for "Little Cesar" on Cesar Milan's TV show the Dog Whisperer on the National Geographic Channel.
---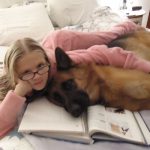 Hi Jan,
I am not sure if you remember me, but Carrie ,our daughter Jessica and I bought a puppy from you and Michael on April of 2010 that we named Huntley.
Huntley just had his 2nd Birthday on the 27th and he is doing SO well, we just love him! He is the main focus of the family and is with one of us almost all of the time. Jessica told us that the day we got him was one of the best days of her life. The two of them are inseparable and just adore each other. He gets to go with us wherever we can take him and then goes to doggy daycare twice a week to play with a dozen other dogs at this wonderful private home.
We cannot say enough good things about how much we love Huntley. Hope all is well with you and Michael.
Rick
---
Submit A Testimonial