V Zara vom Wustenberger-Land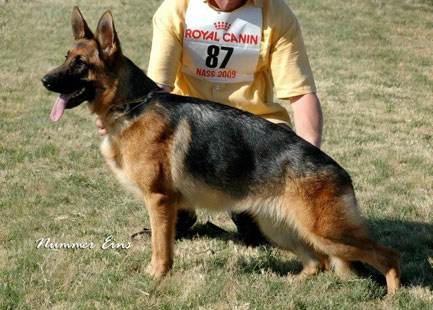 Linebreeding - 5 generations
5 - 5,4 in V3 Cello von der Römerau
5 - 5,4 in V Anka von der Bertenau
4 - 4,3 in V1 (BSZS) Eros von der Luisenstraße
5 - 4 in VA6 Odin von Tannenmeise
5 - 4 in V Gitte vom Laacher-Haus
4 - 3 in V Perle vom Laacher-Haus
3 - 2 in VA1 (USA) Jenny vom Laacher-Haus
Zara's story, she is line breed on her motherline of VA1 Jenny vom Laacher Haus. She is the only daughter we have from her sire V Magic vom Wustenberger-Land schutzhund 3 kkl1 (full litter mate to Musica).
Magic tragically passed away during his transport to the Kentucky sieger show Magic was not in our care and his death could have been avoided. Zara is our only direct connection we have to Magic.
Needless to say she is an important part for the future of Wustenberger-Land's gene pool. Her Dam Orsina vom Laacher Haus schutzhund 3 kkl1 is the same mother to VA Quartz, and VA Nikola. We are looking forward to see what the future brings us in Zara's upcoming progeny.
V1 Magic vom Wustenberger Land
Richy von der Westervenn
VA1 Larus Batu
Jule vom Klostermoor
Daggi vom Stiegler Hof
VA Esko Danischen Hof
VA Jenny Laacher-Haus
Orsina Laacher- Haus
VA1 Bax von der Luisenstrasse
VA Odin vom Hirschel
VA Beaury vom Haus Kiura
VA Jenny Laacher- Haus
V1 Eros vom Luisenstraße
Perle vom Laacher- Haus